The SharePoint platform is promising thanks to the recent developments where Microsoft moved Office 365 services to the cloud. Office 365 is a cloud service that comes with SharePoint online. Together they help businesses improve their collaboration and communication. Several enterprises have already taken leverage of these advantages and SharePoint online has seen mass adoption. According to the Global SharePoint Industry survey report – SharePoint 2016 has seen a 67% increase in deployment, while SharePoint Online deployments rose by 167%.Still, some company owners hesitated to move their content to the cloud. If you are thinking about migrating from a SharePoint On-prem server to SharePoint Online, here some benefits which can help you decide.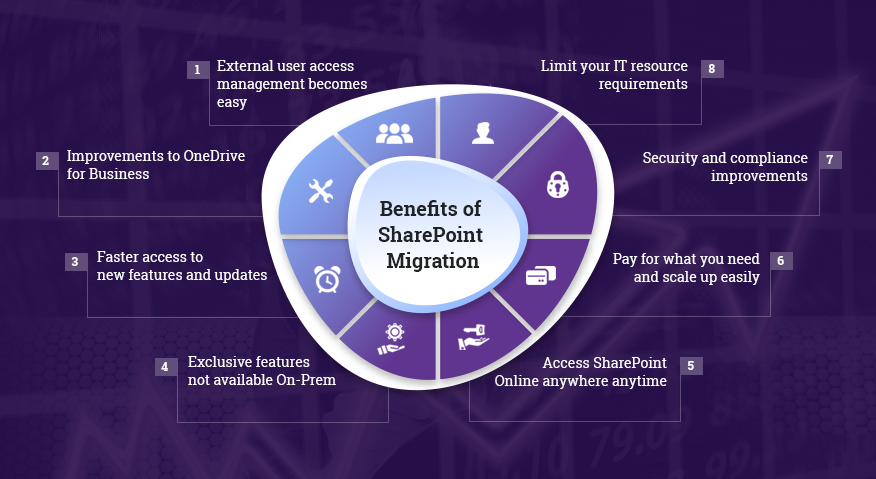 1. External user access management becomes easy
The SharePoint Online version fixed the On-prem environment limitations on users' abilities to share content with external users. Users can share sites, folders, and individual documents with anyone who has a Microsoft Account linked to their corporate e-mail address. Guest links can be assigned to users for specific read or edit permissions.
2. Improvements to OneDrive for Business
SharePoint Online also gives your business access to OneDrive, so you can store and share your files in the cloud. OneDrive for Business gives organizations a place to put all their working files, as well as the ability to share and collaborate both internally and externally on any device. When you save your document to your cloud "My documents" folder, you can assign specific access permissions. Also, the new "Sync client" feature lets you sync files from your OneDrive for Business and SharePoint sites. Finally, the new OneDrive app offers a mobile-friendly experience as well. It provides you analytics on the consumption of your documents.
3. No waiting time for new features and updates
Microsoft has a proactive communication strategy on their latest updates and new features. Office 365 version- users have the privilege of receiving early updates on new releases and upgrades than those who use SharePoint On-Premises.
4. Get exclusive features not available On-Prem
Microsoft Automate (formerly Flow), PowerApps, Delve, and Graph are some of the services available under the Office 365 umbrella and with the SharePoint online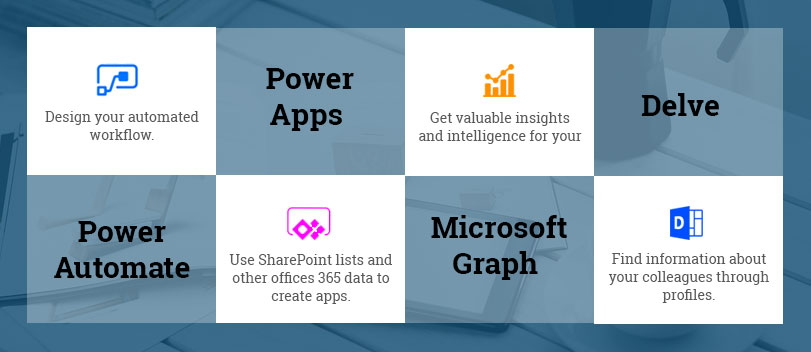 5. Access SharePoint Online anywhere anytime
Office 365 and SharePoint Online, as the name suggests, allow users to work from anywhere and anytime. Users are not restricted to a single device or single network. They can work offline on documents and sync the contents to Windows Explorer from the SharePoint Online. In this case whatever changes have been made while offline will be uploaded back to SharePoint Online once the user reconnects to the internet.The other interesting element for mobility is the new SharePoint mobile app. This app is infused with the intelligence from the Office Graph, so it becomes easy to track each user's experience in the SharePoint mobile app. It is customized based on their activity within SharePoint, how they interact with other users, and much more.
6. Pay for what you need and scale up easily
Office 365 ecosystem allows you to pay for only what you need. The monthly subscription model allows you to add and remove users as your organization changes. For example, suppose a user leaves the company. You can reassign the license or just remove it. This same scalability can also be applied for the Office 365 data storage side, where you only pay for the storage you use when you need it or easily scale up the license with a few clicks. The pricing structure is flexible. You can choose the plan as per your needs. It comes in both, annual and monthly subscription and varies on the number of users, you want to connect under one plan.
7. Security and compliance improvements
Office 365 ecosystem allows you to pay for only what you need. The monthly subscription model allows you to add and remove users as your organization changes. Microsoft Cloud sometimes brings up questions around data security. Fortunately, SharePoint Online has multiple layers of security to protect your data. These include: