A lengthy manhunt in Oregon ended Tuesday evening after authorities arrested a suspect who they warned was "extremely dangerous," officials said. He later died in the hospital.
Benjamin Foster, 36, a convicted felon who was wanted in the recent kidnapping, torture and attempted murder of a woman, is now dead following an hours-long standoff with police.
Foster was initially found Tuesday afternoon in a crawl space under a home and refused to surrender himself to officers of the Grants Pass Police Department and other departments for several hours. SWAT and a Crisis Negotiation team were on the scene.
He was placed into custody Tuesday evening after a self-inflicted gunshot wound, KTVL-TV reported.
OREGON SUSPECT ACCUSED OF TORTURING WOMAN RELEASED DAY HE ARRIVED AT NEVADA PRISON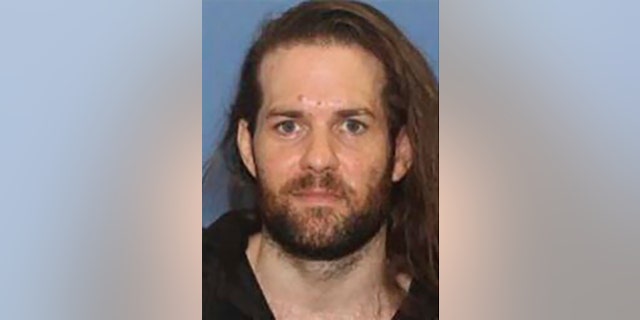 FILE - This undated photo provided by the Grants Pass Police Department shows Benjamin Obadiah Foster.  (Grants Pass Police Department via AP)
Foster was in critical condition at the time of his arrest and was subsequently transported to the hospital. 
He died shortly after, according to KTVL-TV.
Fox News has reached out to the Grants Pass Police  Department and the Jackson County Sheriff's Office for more information.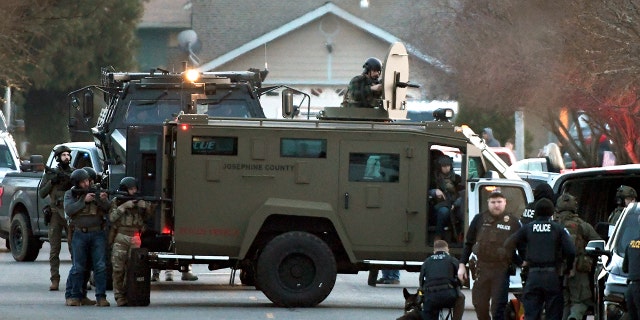 Law enforcement officers aim their weapons at a home during a standoff in Grants Pass, Ore., on Tuesday, Jan. 31, 2023.  (Scott Stoddard/Grants Pass Daily Courier via AP)
Authorities said no officers were injured in the arrest.
In 2019, before moving to Oregon, Foster held his then-girlfriend captive inside her Las Vegas apartment for two weeks. A Las Vegas police report obtained by The Associated Press said she was choked to the point of unconsciousness, and suffered broken ribs, two black eyes, and injuries from being bound at the wrists and ankles.
He initially was charged with five felonies, including assault and battery, and faced decades in prison upon conviction.
OHIO 6-MONTH-OLD BOY KIDNAPPED IN DECEMBER DIES: POLICE
In lieu of the lengthy sentence, Clark County prosecutors struck a deal with Foster where he would plead guilty to felony and misdemeanor battery. In September 2021, a judge sentenced him to up to 2 1/2 years in a Nevada prison.
But after the 729 days he had spent in jail awaiting trial were factored into his punishment, Foster was left to serve less than 200 additional days in state custody.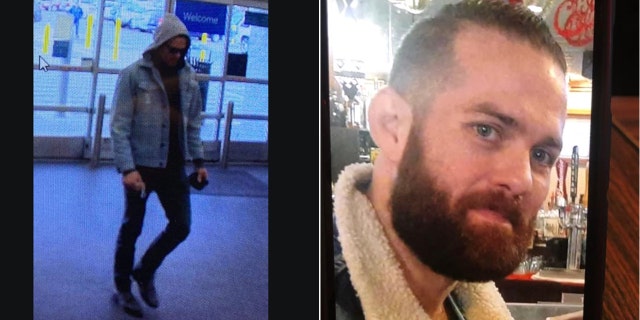 The Grants Pass Police Department released photos of Benjamin Foster ahead of his arrest in Grants Pass, Oregon, on Tuesday, Jan. 31, 2023.  (Grants Pass Police Department)
Last week, on Jan. 24, Foster was again charged with attempted murder, kidnapping and assault after a victim was found in Grants Pass, Oregon. The victim, a female, was hospitalized in critical condition. 
Prior to the arrest, police released a photo of Foster but said he may have altered his appearance since it was taken. Grants Pass Police Lt. Jeff Hattersley said Foster had cut his shoulder-length brown hair and grown a thicker beard. 
WEST VIRGINIA MAN ACCUSED OF KIDNAPPING AND 'BURNING' WOMAN WITH TORCH: POLICE
"The Grants Pass Police Department asks the public to pay particular attention to Foster's facial structure and eyes since those features are very difficult to change. Additional photos of Foster, as they become available, will be released to assist in his identification," the Grants Pass Police said in a Jan. 29 update.
Grants Pass police issued a community warning that said Foster remained on the run Tuesday afternoon.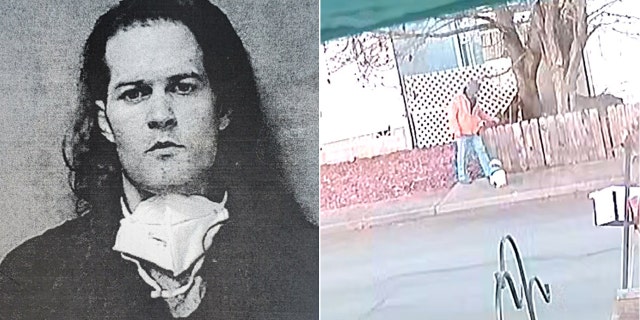 Grants Pass Police Department said suspect Benjamin Foster was spotted near the home of the Jan. 24 crime scene just days later.  (Grants Pass Police Department)
Foster narrowly avoided being arrested after police conducted a raid on a family property in Wolf Creek, Oregon, on Thursday, Jan. 26. 
Police also said Foster was using dating apps to lure people into assisting him to avoid police and potentially find new victims.
CLICK HERE FOR THE FOX NEWS APP
Authorities said they will hold a press conference Wednesday afternoon to provide additional details.
Fox News' Julia Musto and The Associated Press contributed to this report.