An NBC News insider feels Miguel Almaguer "f----d up" and could have been terminated for carelessly relying on a single source for his Paul Pelosi report that was retracted last year.
In a viral "Today" segment days after the brutal attack, Almaguer seemed to imply Pelosi, husband of former House Speaker Nancy Pelosi, might not have been in immediate danger when police arrived at his San Francisco home the night he was assaulted by suspect David DePape. Police bodycam video has since put a spotlight on what appeared to be accurate and inaccurate, but a well-placed insider doesn't think Almaguer's infamous report was fit to air either way. 
The insider, a former NBC News executive with knowledge of the way the Almaguer situation played out internally, said the veteran reporter relied on a lone source for the story that should have required confirmation. 
"It was more a tip than a source," the former NBC News exec told Fox News Digital of the information Almaguer used in the report that was retracted hours after it aired last Nov. 4.
BODYCAM VIDEO OF PAUL PELOSI ATTACK SHEDS LIGHT ON NBC NEWS' MYSTERIOUSLY RETRACTED REPORT
"The first thing that was wrong with it, there is a real question as to how much he knew. Then, there is a question as to what the second source was," the former exec said. "What was the confirmation?" 
The insider said those two factors are "Miguel's part of the problem," but NBC News standards and practices also played a role in what has emerged as a public relations nightmare with media watchdogs calling for transparency from the Comcast-owned network.   
Ultimately, the former NBC News executive believes the company had "grounds to fire" Almaguer, a step they said was considered by current executives.  
"Miguel f----d up," they added. "It's not clear that he had anything approaching two sources, and it's not clear that the first source was more than a tip."  
CALLS FOR TRANSPARENCY FROM NBC NEWS GROW LOUDER IN WAKE OF PAUL PELOSI ATTACK BODYCAM VIDEO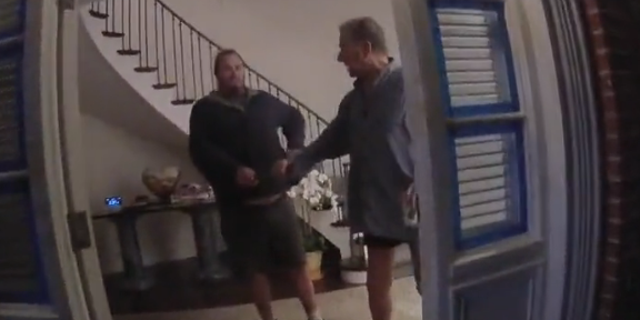 David DePape, left, and Paul Pelosi are seen in an image from bodycam footage.  (San Francisco County Superior Court)
Longtime NBC News standards and practices head Marian Porges stepped down in 2021 after a 25-year run at the company. Chris Scholl, who has also been at the company for over two decades, was promoted to vice president of news standards. 
"The standards guy falls down on the job and does not question Miguel properly on 'who is the source,' 'what's the second source.' He totally fails to do his job," the source said.  
Scholl did not immediately respond to a request for comment.
The source believes NBC News standards department botching the story helped save Almaguer's job.  
"Standards really falls down on the job," they said. "The editorial process fell down, so you can't just blame Miguel." 
NBC News did not immediately respond to a request for comment. Almaguer has not responded to multiple requests since his story was retracted in November. 
NBC News has not publicly explained what was wrong with the retracted report aside from a brief line that it didn't meet standards. Media watchdogs have called for greater transparency from NBC, and the bizarre handling of the situation has led to all sorts of speculation.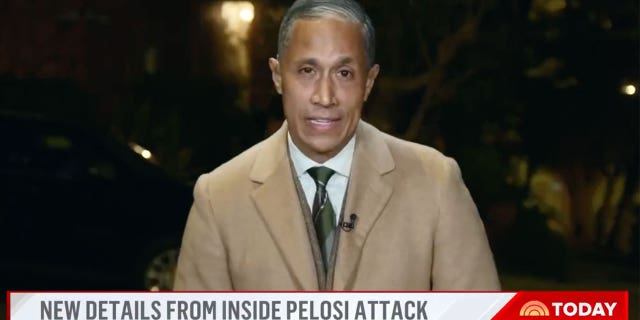 Bodycam video of the October attack on Paul Pelosi shed light on what appeared to be accurate and inaccurate with Miguel Almaguer's NBC News report that was retracted last year. (Screenshot/NBC News)
PAUL PELOSI VIDEO SHOWS HAMMER ATTACK AFTER POLICE ARRIVE
Friday's release of bodycam footage from the incident was supposed to clear things up, and some media watchdogs have since claimed the footage vindicates Almaguer, while others aren't so sure. The insider believes that the report was botched, as it gave an impression that Pelosi wasn't in immediate danger when police arrived. At one point, Almaguer reported Paul Pelosi walked several feet back toward the inside of his house after answering the door, but bodycam footage showed DePape holding his arm already when the door opened.
"The body camera footage clearly shows that one of the inferences that Miguel reported was inaccurate," the insider said. 
DePape has pleaded not guilty to all state charges in the case, including attempted murder, assault with a deadly weapon and elder abuse. He also has pleaded not guilty to federal charges of assaulting an immediate family member of a federal official and attempted kidnapping of a federal officer for the alleged home invasion. He unexpectedly called in to KTVU San Francisco following the release of bodycam and surveillance footage and took credit for attacking Pelosi and said, "I'm so sorry I didn't get more of them."
CLICK HERE TO GET THE FOX NEWS APP
Brian Flood is a media reporter for Fox News Digital. Story tips can be sent to brian.flood@fox.com and on Twitter: @briansflood.