The Omaha Police Department has identified two officers involved in a shootout during an attempted burglary at storage facility Monday. 
The department said the officers are Nicholas Lanning and Joshua Moore.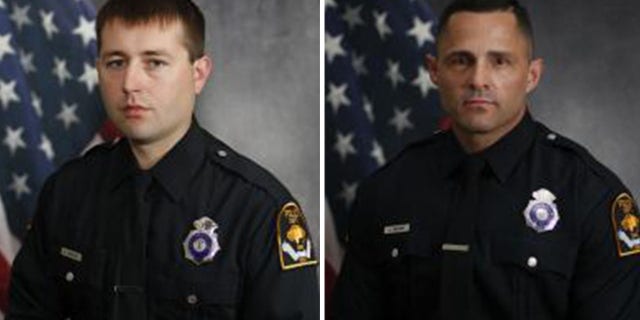 L-R: Omaha officers Nicholas Lanning and Joshua Moore.  (Omaha PD)
The officers responded to Dino's Storage at 5328 Center Street around 10:30 p.m. Monday for a burglary in progress, police said. 
The officers entered the facility with the assistance of the property manager and attempted to engage the suspect. The suspect, later identified as 38-year-old Steven Docken, was still inside an open storage unit, police said. 
DALLAS POLICE RELEASE PHOTO OF MAN WHO MAY HAVE INFORMATION ABOUT ZOO'S STOLEN MONKEYS
Docken ran down a hallway upon seeing the officers. The officers ran after Docken and, after catching up with him, a physical altercation ensued. 
Gunfire was exchanged, and both officers were shot in their lower extremities. Docken was struck "multiple times" and was killed, police said. Investigators found a handgun at the scene.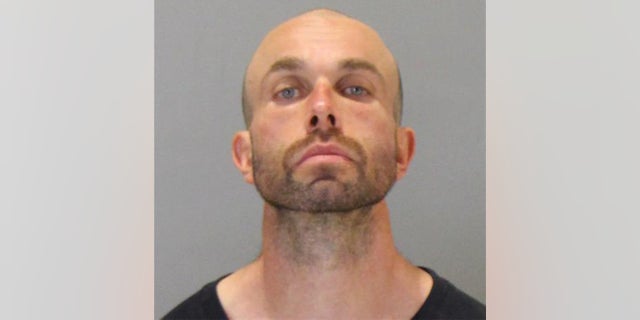 Steven Docken served at least two stints in prison.  (Omaha PD)
The officers were taken to the University of Nebraska Medical Center with non-life threatening injuries, police said. 
The department told Fox News Digital that Lanning has since been released from the hospital. Officer Moore is being held for observation for "possible surgery," but is considered stable, the department said. 
Officer Lanning has seven years of service, and Officer Moore has one year of service, the department said. 
Docken served two stints in the Nebraska Department of Correctional Services, the Omaha World-Herald reported. He was recently released in December 2021 after spending two years on drug-related charges. He also served time between December 2013 and June 2017 after being convicted of theft and a gun charge.
CLICK HERE TO GET THE FOX NEWS APP
The Nebraska State Patrol and the Douglas County Sheriff's Office were expected to be involved in the investigation. Both officers were wearing body cameras and security video from the storage business was made available for review.
The Associated Press contributed to this report. 
Bradford Betz is a Fox News Digital breaking reporter covering crime, political issues, and much more.