A significant portion of most of our lives is spent supporting and caring for our family. You could feel the urge to pray for the people in your life, whether it be your spouse, kids, or extended relatives.
Praying for your family means bringing requests before God on their behalf and being thankful for answered prayer.
You most likely have a lot of worries about your family during these trying times that many of us are currently experiencing.
You could worry about your finances and being able to make on-time payments on your bills. You may require courage to confront and handle some health-related issues. Your worries may encompass broader worries about the security of your family.
No matter how precise or all-encompassing your concerns may be, offering prayers for your family entails speaking up for the people who mean the most to you.
You can find peace of mind and support through trying times by confessing your worries or fears to God. You can opt to say your prayers aloud or in silence. Sometimes, expressing our worries aloud is a helpful approach to do so.
The 21 prayers that are listed here might provide your family the support and encouragement they need to face challenges or simply get through each day. These prayers can be recited either privately or as a family.
1. Dear Lord
Our family is battling fear and uncertainty. Your power and strength are essential to our lives. We need to feel at ease and at peace with you. Please embrace us and suffuse us with your love.
I offer my prayers for my marriage and my kids. For each member of my family, I offer prayers. You are aware of the specific requirements and anxieties we all have.
Give us all the courage we need to keep moving forward and comfort us as we proceed on the road of life.
Lord, I thank You; Amen.
2. Dear God
Give us the discernment to decide what is best for our family.
Give us the fortitude to rely on you even when there are no obvious solutions.
Give us encouragement to continue despite the challenges we face.
We are grateful that you heard and responded to our request.
We appreciate your unwavering protection and tranquility.
Amen, in your name.
3. Father in Heaven
In these trying times, Father, we pray to you. It's simple to lose hope when individuals are unwell and fighting to make ends meet.
Give us the courage and fortitude to persevere in the face of everything that is going on around us. Help us to focus on you rather than our issues. We need consolation and support to get through.
Amen
4. Dear Jesus
My family is having trouble coming together as a unit. We all seem to be pulled in so many different directions. I'm requesting that you reunite us as we ought to be.
Give us the fortitude to depend on one another and, most importantly, on you. Every member of our family is in my prayers. Help the family as a whole and each of us individually.
Amen, in your name.
5. Lord God
Now more than ever, my family needs assistance. Under such trying conditions, it's quite tough for us to continue. Our lives are experiencing a lot of simultaneous failures due to a multitude of factors.
Give us the courage to carry on. Give everyone of us the motivation to keep moving forward. I'll keep in mind the promises you made in Proverbs 18:10. T
he virtuous run into the strong tower that is the Lord's name, and they are kept safe. Help me to keep in mind that even in these trying times, I can always rely on my God.
Thank you, Lord,
Amen
6. Dear God
I'm exhausted. I'm so worn out that I want to give up. Please revive me and give me the energy I need to take care of my family.
You already know how much I adore them, but maintaining order may be challenging. Teach me how to interact with and care for my family more effectively. Give me the courage I need to keep going by consoling, leading, and guiding me.
Amen
7. Dear Jesus
Never stop telling us who you are and what you are capable of. You are more powerful than all of our issues or concerns. You provide the ideal example of perseverance in the face of overwhelming adversity.
Give our family the resolve it needs to unite as a family should. Give everyone of us comfort and enable us to comfort one another. In Your Name, amen
8. Father
There seems to be a never-ending struggle for our family. We are dealing with a lot of things at once. During these hard times, we need your courage and direction.
Give us the courage to carry on by surrounding us with your comfort and pouring your Spirit onto us. We ask that you uplift everyone of us individually as well as assist us in supporting one another.
Help us to truly understand what each of us is going through right now. We appreciate and adore you.
Amen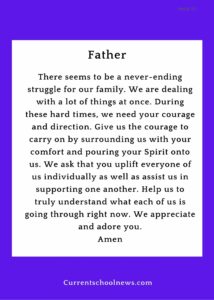 9. God Almighty
We are extremely concerned about what this family's future may hold. We are fighting so many different battles. It's quite simple to become overpowered by fear and hopelessness.
We shall put our trust in your assurances of power and redemption. You tell us in Isaiah 12:2, "Surely God is my savior; I will trust and be not afraid." My strength and singing come from the Lord; he has become my savior. God, thank you for these wonderful words of consolation.
Amen
10. Dear Lord
Our family comes before you asking for strength, comfort, and protection. As each of us goes about the daily routine in our lives we ask that you guide our every step.
We don't know what each of our lives holds in store, but you do. Go before us and make straight our paths. Give us the wisdom to make the right choices.
Give us the strength to keep going when life becomes difficult. We will rest in who you are and that nothing is too difficult for you. We thank you for all you have done and will do for us.
Amen
11. Dear Lord
I'm asking you to support my kids. They are impressionable young people who are terrified by what they witness taking place in the world.
May my children benefit from your strength and power. During this period of dread and uncertainty, comfort them. Give them the courage to face each day with confidence and peace.
You advise us to cast all of our worries on him because he cares for us in 1 Peter 5:7. We are resting in the strength of your words and the knowledge that you genuinely care about us.
Amen
12. God
I'm here to speak on my family's behalf. Each of us has a wide range of needs. You are aware of and comprehend each one. Send your love all around me.
Help me to find solace in your magnificence and might. regain my own strength and my family's power.
Help us to always express our thanks for everything you have done thus far and for the things we anticipate you will accomplish in the future.
Amen
13. God Almighty
Our family is looking for answers during this time of trouble. We're not even sure what to ask for or how to pray. You know exactly what we're experiencing and what each of us needs.
We know that we need you to guide us, provide for us, and to give us the wisdom to know the right choices to make. Our strength is failing, so we depend on you and your power and love to carry us through.
Amen
14. Dear Lord
Strength and assistance are necessary for our family to get through each day. We are all coming to you for protection. We'll speak your words aloud, accept them as true, and find solace in them.
In Psalm 62, you inform us: 1, 2. Only God can give my spirit rest; only God is the source of my salvation. I can never be rocked since he is my fortress and the only one who can save me.
We opt to take these words at face value. Please keep giving us the solace, encouragement, and fortitude we require to get through each and every day. I'm grateful, Lord.
Amen
15. Dear Jesus
You are always strong even when we are not. For all of us, your life served as the ideal example. Bless our family with your presence as we assemble.
Even though we are grateful to be a family, we don't always get along as well as we should. As you have loved us, please help us to love one another. Bless us with the power to handle all of our demands. Give us the solace that only you can give.
In your name we pray, amen.
16. Father in Heaven
Health problems have been a problem for our entire family. We require replenishment of our strength. As we work to regain our health, we pray that you lead us and be with us.
As we battle through this stage of life, strengthen our bodies and minds. As we should at this time of illness, please assist us in supporting and caring for one another.
Amen
17. Dear Lord
In prayer, we present to you the entire list of family woes. Each of us is dealing with a lot of issues. We ask God to keep us healthy and safe from illness and job loss. We humbly ask that each and every day you keep us safe and direct our paths. Please grant our family all the necessities, we ask in your name.
When we are weak or afraid, our family will utter your words aloud. We are reminded in Psalm 32:7-8 that "You are my hiding place; you will keep me safe from harm and surround me with songs of salvation."
Thank you, Lord, for your encouraging and empowering words. Amen
18. God
We are grateful for all the favors you have shown to our family. I give thanks for my entire family and my extended relatives. I offer prayers for all the mothers, fathers, boys, and daughters.
Please give us the perseverance and fortitude we need to communicate with and encourage one another. I pray for the elderly, that they can share their knowledge, and that those of us who are younger can pay attention to and heed their counsel.
I pray that you will grant sisters and brothers the courage to look out for and encourage one another as we ought to. We give you our gratitude for uniting us all into one big family. We beg your blessing, and strength.
In Your Name,
Amen
19. Heavenly Father
We require you in our family's life. Each member of our family is in a distinct stage of life. Some people live close to us, while others do not.
Some people are having difficulties with their jobs and finances, while others are worried about their health or interpersonal connections. Philippians 4:12–13 serve as a reminder of one of your many promises.
I understand what it's like to have plenty of things and what it's like to be in need. I have discovered the key to finding contentment in every circumstance, whether I am well fed or hungry, or whether I am in abundance or want. Because of his power, I am able to accomplish all of this.
We appreciate your amazing pledge and ask that you keep it in mind for us in the future. We ask that you meet each member of our family where they are and attend to their specific needs. We are grateful for the strength and power found in your love for us.
Amen
20. God
My kids really need your comfort right now. They are perplexed and seeking clarification. I ask that you provide us more opportunities to spend time as a family. All of us appear to be drifting apart. I beg you to deepen our family ties and give us the tools we need to truly value one another.
Amen
21. Dear Lord
We bow before you in gratitude and thanksgiving as a family. We are confident that you can do it again because you have helped us weather many storms in the past.
Once more, we are battling a plethora of problems that feel overwhelming to us. In each of these aspects of our lives, we are asking for your assistance.
Amen
Final Thoughts on Saying a Family Prayer
It might be challenging to maintain strength and confidence when things are difficult. Praying for your family can bring comfort and the fortitude needed to go through challenging circumstances. A vital component of assisting your family in leading healthier, more joyous lives might be prayer.
Save these family prayers on your computer, phone, or even a piece of paper. When you need to connect with God, say these prayers aloud or with a family member.
READ ALSO!!!
This Content about Prayers for Your family is Unique and helpful, you could share it among your friends or love one for others to benefit.
CSN Team.
You need to add a widget, row, or prebuilt layout before you'll see anything here. ????